Mobile Marketing Tours provide an efficient way for you to increase exposure, introduce and/or explain products and build better relationships with your customers. To deliver the best experience, Tantara will oversee the design, production, logistics management and tour staffing to ensure that your marketing tour runs smoothly and efficiently, beginning on-time and within budget. We provide our clients with tour development, staffing, event management, calendar creation, site selection, and ongoing development.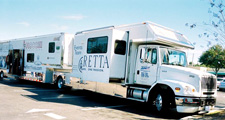 Are you introducing a product to a new market? Does your current marketing campaign need an enhancement? Do you need to demo a new product? Our professionals are ready to support your project and put your show on the road.
Our Mobile Marketing Tour services include:
Truck/trailer customization
Consulting services
Short and long-term leasing
Multi-media and interactive technologies
Skilled tour drivers and support teams
Ongoing management
Inspection and permits
Motor vehicle regulation compliance
Contact Tantara today to learn about our Mobile Marketing Tours!