When shipping sensitive or valuable items, we understand that entrusting them to even the best shipping company can be stressful. But with over 27 years of experience delivering and installing computer hardware systems, electronic components, tradeshow exhibits, special products, and retail rollout programs, Tantara's expertise, knowledge and resources make shipping your product a successful and stress free experience.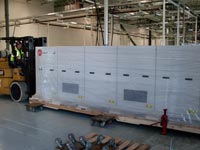 Our team will design a personalized performance plan around your needs to deliver you cost-effective handling for every fixture, hardware, or display project. Through the use of our own equipment and crews, we are able to control all of the details involved in your logistics program, ensuring your shipments arrive on time. If you have complex or high value products requiring special handling, or a major installation program, our experienced service representatives and drivers understand the white glove treatment that is necessary to get your products to their proper destination without incident or damage.
Put your mind at ease when you hire Tantara to expedite your sensitive and high volume commercial products. Medical diagnostic equipment, high-tech electronics, store fixtures, audio and video production, business systems, and tradeshows are just a few of the commodities we carry for our nationwide list of customers.
Contact Tantara's Specialized Transportation department to let us know what we can do for you!