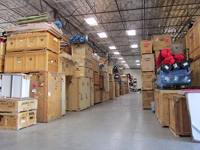 Whether you need short or long-term storage or a break bulk and distribution network, we can take care of it all. At Tantara, we have multiple facilities throughout the U.S. to accommodate your local or regional market demands.
We offer several Distribution services to our customers, including:
Inventory management
Product pick 'n pack
Rack storage
Just-in-time distribution
Final mile delivery programs
1st mile pick up programs
Air and ground distribution
Regional rollouts
Reverse logistics
Detailed billing
Product assembly, configuration and removal
Certified and insured
Want to know more about how we can help with your warehousing and distribution needs? Contact Tantara's Warehousing and Distribution department!