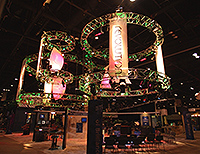 Tradeshow Transportation is a key component of our 27-year existence. We are show specialists and understand Convention Center logistics and the diversified groups of vendors that work to make your show complete. Our experienced teams of professionals handle the day-to-day coordination to ensure your booth is delivered and recovered on-time, every time!
For our Tradeshow Transportation customers we offer:
Customized account management
On-site show representation
Preprinted bill of ladings and show labels
Proof of delivery and recovery
Pad-wrapping and strapping
Consulting services
Certified weight tickets on all shipments
Warehousing and distribution
Call Tantara to find out more about how we can help with your tradeshow transportation needs!